We believe that how a garment is made is only half the story. The way it is cherished and looked after will be the true measure of its long and beautiful life. With the right amount of care our knitwear will last for years, even decades to come. We encourage you to treasure it with the same love that went into making it. Caring for your knitwear will only add to the story of its life, one we hope will continue through generations. The breathable nature of the 100% natural fibers used in all of our knits mean they can be washed much less frequently. A garments carbon emissions can be reduced by over 20% through thoughtful washing, drying and care. With this in mind, we want to share some tips to ensure your Standard Issue knit is as kind to the earth as it is to you, over a lifetime of wear. Even the simplest of styles has a long journey before making its way into your hands. From design through to production the knitting, assembling, and finishing of Standard Issue garments takes place entirely in our zero-waste Auckland workroom by our wonderful craftspeople. Each knit carries the stories of the hands that made it, a story we hope you grow and make your own, over the lifetime of memories to be made in your knit.
Care for papatūānuku. Wash less.
Low Impact Care
The natural fibers we work with are incredible at expelling odours through moisture control, preventing against the build up of bacteria along with resisting stains and wrinkles. This means you shouldn't have to wash your knits too often - you can simply air them out by laying flat on a bed or towel overnight to dispel any lingering odours. This will keep them feeling fresh between washes. You can also spot treat small stains as a way of limiting the amount of washing. When the time comes to wash your knits, we recommend hand washing in cold water with a gentle soap, to prevent the delicate fibres being aggravated by the harsh chemicals often found in regular detergents. Make sure the soap you use does not contain bleach. Washing in cold water uses significantly less energy.
Washing
Before washing, we recommend turning garments inside out. Wash your knit by dissolving a small amount of soap in the water, submerge the knit and massage through. A small amount of dye release is normal for dark colours, particularly in the first wash. The dyes we use are OEKO-Tex 100 certified, meaning they are non-toxic and completely safe. We recommend avoiding dry cleaning your knitwear. It can be a highly chemical intense process, and often not the gentlest way to care for your garment, or the earth.
Drying
Rinse and gently squeeze out the water before rolling the knit in a clean towel to absorb excess water. It is best not to twist or wring excess water from the knit. Lay the garment flat to dry in an airy space, out of direct sunlight. Lighter-weight knits may take a little longer to shed any creases. You can remove any wrinkles by steam ironing on a delicate setting.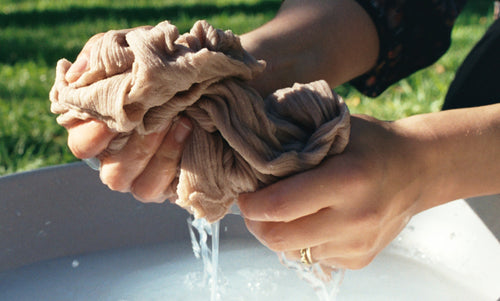 Storing Your Knits
Storing woolen pieces requires a little more care compared to cottons and other fibers, as moths and silverfish love wool, and can cause holes. Using a few drops of lavender, mint, or eucalyptus on a cotton ball, nestled among your knits is a good way to prevent against these pests. We recommend storing your clean, dry knitwear in an airtight container, especially in warmer months. Ensure your knits are clean before you store them away, as any dirt can attract moths.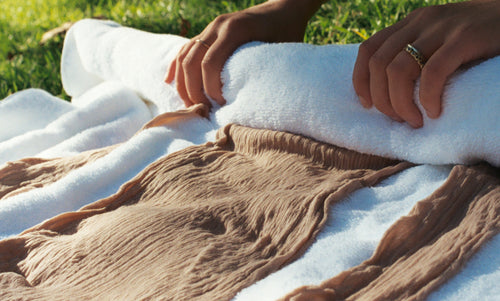 Everyday Care
Pilling is not uncommon with knitwear, especially wool and cashmere. You can easily remove the little balls by hand, or by gently running over the knit with a cashmere comb. Standard Issue garments are knitted with high quality yarns and a tight tension to help minimise pilling. Each beautiful knit we craft has been thoughtfully designed and made to stand the test of time, with a complete and circular life in mind. As we celebrate our philosophy of knitwear made to last a lifetime, we are proud to take responsibility for the complete lifecycle of every knit we carefully make. Through our Care for Life program, we renew knits through mending, reuse by passing on, and repurpose by giving the fibres a new life.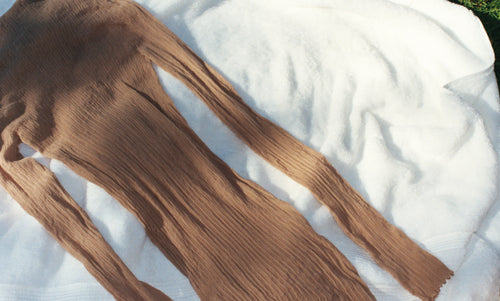 Thank you for partnering with us in celebrating garments that last a lifetime.